Nursery
Times Available:
Sunday: 8:30 - 9:45 am
Wednesday: Not available at this time.
Special events & activities (please call)
Infant Nursery:
0-24 months
Not available at this time.
Toddler Nursery:
2 - 3 year-olds                                                 Sunday moring during first service.
Wednesday night during KIDSalive
Director:
Melissa Smith
Leaders:
Andrea Carlton
Ashley Williams
Find us on Facebook:
https://www.facebook.com/SWCKidsConnections/
Our goal is to provide a safe, positive atmosphere for each child. Infant nursery is provided for children from birth to 24 months. Toddler nursery is for 2 and 3-year-olds.
Re-entry started September 13th
We have started toddler nursery only (2-3 year olds) at the 8:30 am worship service. A plan with added safety measures has been established. Currently our church board has set Kids Ministries to re-enter at a level 3. View the leveled plan. Prior to re-entry, use this Registration form to register your child for Nursery. You will only need to fill this out once this fall.  You may register your infant, but infant nursery will not start up until we move to a level 2 and have the available volunteer staff.
We would like every parent to also review this stoplight to ensure their child is able to attend Nursery each Sunday.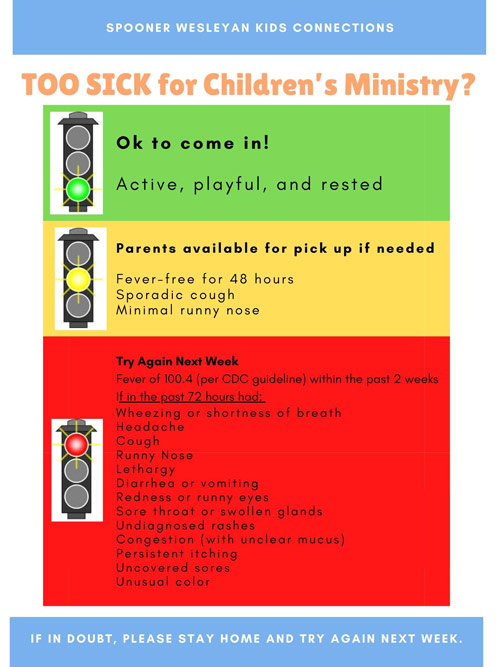 Check-In Procedure
We use a secure digital check-in process to guarantee the safety of each child. Once the child/family information has been entered into our database, they can easily be checked-in each week. At check-in, two labels will be printed with corresponding numbers. One label stays with the child; the other label stays with the parent. At pick-up, nursery staff will ensure that the parent's label matches the child's label.
Paging System
There is a paging display on the front wall of the sanctuary (above the right-hand door on the platform). In the event that your child needs your attention during a service, your child's number will be displayed on the pager. If you are visiting please ask the nursery volunteer to assign you a visitor number. Our child check in also has texting capabilities. You can click which parent should be texted in case of an emergency when checking in your child.
Cry Room
A room is available where nursery staff can take children in need of extra comfort or quiet.
Feeding Room
A comfortable room is available where parents can feed their children. Moms may enter the room via the infant nursery door.
Crib Room
There is a crib available if your child is in need of a nap.
Help Prevent the Spread of Illness
Please do not bring your child to the nursery when he/she is not feeling well. Signs of illness are:
unusual fatigue or irritability
coughing, sneezing or thick discharge from nose
fever of 101 or higher
inflamed mouth or throat
vomiting or diarrhea
For the Diaper Bag
Please provide the following items in your child's diaper bag:
2 or more disposable diapers
enough bottles or sippy cups for baby's stay
favorite toy or blanket if needed
a pacifier, if baby uses one
Please be sure all belongings are labeled. There are tags available for regular attenders. Visitors may use the labels located at the check-in table.